Happy Customers
Here is a video review from Viv McCarron, who was very pleased with his result.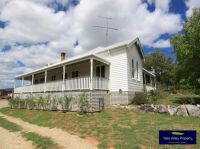 Highly recommended for both buying and selling!
Dear Andrew,
Chris and I would like to thank Yass Valley Property for all your help with
successfully completing our sale. Please could you also thank Peter, Loren,
Alice and Sophie for all their kindness and consideration to enable us to
get there!
We were very impressed with how efficient and honest you were with both us
and the buyers while still maintaining a sense of humour [most important
when dealing with stressed vendors!] We think the result was very good, both
for us and the buyers and wish them every happiness in their new home.
We would recommend your agency highly to anyone who is hoping to have a
successful journey thru the real estate experience both for vendors and
buyers.

Kind regards Melinda and Chris Streeter
Andrew Curlewis
"We highly recommend Yass Valley Property and, in particular, Andrew Curlewis for the sale of your property in the Yass Valley.

We first met Andrew when purchasing our house in Yass 4 years ago. After having dealt with other Agents in Yass we were really impressed by Andrew's no-nonsense approach and friendly manner. It made the whole buying process very easy.

After moving to our new house in Yass Andrew still helped us by recommending tradespeople to us who we still use to this day.

When it came time to sell our Yass house we knew straight away that we wanted Andrew to be our Sales Agent. Throughout the whole process Andrew was very professional, had good market knowledge and helped us to get the result we were after.

From the moment we contacted Andrew about selling our house, he made everything easy and straightforward. Communication was quick and easy and he always kept us up to date with how the sale was progressing. He offered helpful advice on how to maximise the selling price of our house. He efficiently had our house on the market and took the time to show prospective buyers through our property before the open house.

Our aims were to sell our property quickly and at a decent price and Andrew helped us have the house sold within the first week after it was listed for the exact price we wanted.

Andrew is a great find - he is genuine and honest - and we recommend him without hesitation."



Menon & Jacqui
Highest recommendation
When I offered my rural property for sale to Peter and Andrew Curlewis the general economic environment was so poor that I sometimes wondered whether my judgment of commercial matters had lapsed.

Peter and Andrew never wavered in their enthusiasm to market the property and took the whole matter over. Their ability to produce eye catching advertisements with imaginative photographic backup was most professional.

Both men have a wonderful manner for dealing with clients and when it came to inspections or the other was always available to comply with the date chosen by the person enquiring.

They kept in touch and gave me regular updates. They respected my values and the work and time that had gone into the property I was selling.

I have great pleasure in giving the highest recommendation to Yass Valley Property for both rural property and town residential.
Michael Keenan
Impressed
We had our house and property on the market for two years without having any success, then decided to move the sale to Yass Valley Property. Within two weeks we had a firm offer on part of the property quickly followed by the total sale of the remaining land and house.

We were impressed with their integrity, enthusiasm and their modern approach to marketing and personal service.

It was a very enjoyable experience dealing with Peter and Andrew who offer a very professional personal service. We would not hesitate to recommend their firm to anyone wanting to sell property.
Terry & Wendy Brant
"Respected Professional"
Real estate people would be among the most respected professionals if they were all like Andrew Curlewis.

We selected Andrew to sell our rural properties in the Yass district because we knew first hand that his reputation for honesty, integrity and good old fashioned hard work is justified.

He has faced challenging sales situations for us and come up trumps every time.
Peter and Jacqui Sekuless.